So, this past week, a cool front came through and I must say, it was WONDERFUL! Here in deep South Texas, it's November and yet our temps are still in the 80's/90's. Weird, I know! To celebrate the cooler temps, I made this Hearty Lasagna Soup and as a result, it was just what we needed! I have a love/hate relationship with Lasagna. I utterly love the dish and can lick my plate clean if no one's around but because of all the work that's involved in preparing it, I also hate it. Well, hate is a strong word, it's probably more of a "It's too much work, I don't want to make it unless someone's going to help me do it AND clean up" kinda feeling. I'm thinking I need to clone myself, that way, I can play Candy Crush while mini clone me makes it. Sounds almost possible, right!? No, I guess not really but until it is, I will easily volunteer to make this Lasagna Soup at moment's notice!
This recipe can be easily customized to suit your taste buds. It is fantastic with this Italian Sausage but if that's not what you have on hand (or like), use ground beef or turkey. I also added Cayenne Pepper to give it a little kick but it can be 86'd or just adjust the quantity to suit your liking. In my opinion, the Italian Sausage is the one I like most of all but, that's just me.
Cooler, and wetter, days are imminent therefore, take a look at some of my other favorite soups that are especially relevant warmer-uppers this upcoming season. My Pozole and Pasta Fagioli recipes are a couple of all-time favorite's so be sure to take a look. With soups like these, leftovers are inevitable which is why soup is so great! They store pretty well and the flavors become BFF's after hanging out in the fridge overnight. In a recent trip to our local Sam's Club, we found these storage containers and I immediately fell in love! For one thing, they're glass which means they won't warp or get that orange-y colored film that always bubbles up in the microwave…Yuk-a-roni!! This set comes with 6 square and 6 rectangle containers with corresponding matching airtight and leak-proof lids!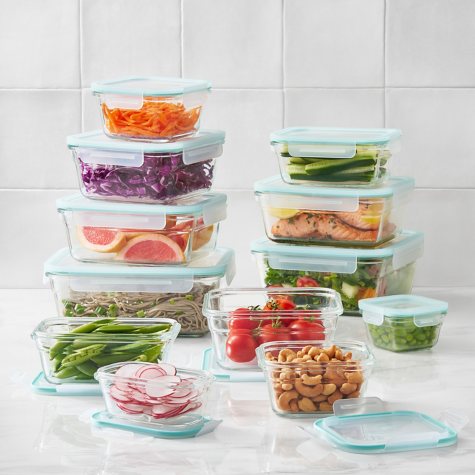 Safe to use in freezer, refrigerator, dishwasher, microwave and oven * Made of tempered, shatter-resistant glass
BPA free
Nesting Containers[/caption] Plus, because they are NESTING containers, they have quickly become my favorite ones to use! Snap the lid on each container then nest them to save space! No more fussing with the lids or trying to find them…they can all be stacked nice and neat.
Then when you're ready to have some more of this delicious Lasagna Soup, simply grab the container from the fridge, remove lid and pop in the microwave! No more grabbing a container only to find leftover corn from last week that somehow, managed to get shoved to the back of the fridge and forgotten. These containers are clear, making it's contents easily identifiable, which is a win in this house! Now, here's the recipe you're going to want to make tonight!
Ingredients
8 Lasagna Noodles
6 tbsp Olive Oil, divided
19 oz Mild Italian Sausage, casing removed
1 tsp Salt
1/2 tsp Black Pepper, ground
1/2 tsp Basil, dry
1/2 tsp Thyme, dry
1/8 - 1/4 tsp Cayenne Pepper, ground
1 tbsp Parsley Flakes, dry
1 tsp Oregano, dry
1/2 White Onion, chopped
2 tbsp Garlic, minced
5 cups Water
3 Chicken Bullion Cubes
1 large Bay Leaf (or 2 small)
2 tbsp Tomato Paste
14.5 oz Petite Diced Tomatoes
28 oz Crushed Tomatoes (with Basil)
1 cup Pasta Water
Ricotta Mix
8 oz Ricotta Cheese
1 1/2 cup Mozzarella Cheese
1/2 cup Parmesan Cheese, grated
Fresh Parsley for Garnish optional
Instructions
Break lasagna noodles into small, bite sized pieces. Cook according to package directions. When ready, reserve 1 cup of pasta water before draining. Set aside. In a small bowl, mix all three cheeses and also set aside.
In a large stock pot, heat 3 tbsp olive oil and brown sausage (casing removed), salt, pepper, oregano, parsley, cayenne, basil and thyme. Cook through and crumble. Strain and set aside.
In same stock pot, heat remaining oil. Add onion and saute until translucent. Stir in garlic and cook an additional 3 minutes. Add water, bay leaf, bullion cubes, tomato paste, diced and crushed tomatoes. Bring to a boil. Reduce heat and simmer 20-25 minutes.
Stir in pasta and reserved pasta water. Simmer 5 minutes.
Remove from heat and discard Bay Leaves. Serve while hot into bowls and top each with a heaping spoonful of ricotta mix. Garnish with fresh parsley if desired.
Orange Glaze
In a small cup, whisk powdered sugar, vanilla and juice (or milk) with a fork until smooth. Drizzle over cooled scones. Enjoy
Cori - xoxo